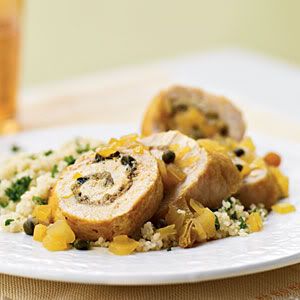 Ingredients:
Boneless skinless chicken breast
Spinach
Shredded Parmesan cheese
Minced garlic
Salt, pepper and seasoning salt.
Stove top stuffing mix (follow directions on box)
Yield: Each chicken breast can feed one to two people depending on the size of the breast.
Directions:
1. Bring a large pot of water to boil. Save for chicken
2. Follow package directions for stuffing mix. Before stuffing is completely finished, add in you desired amount of fresh spinach and allow it to wilt. Mix in a generous amount of shredded Parmesan cheese and allow it to melt through out the stuffing mixture. Add in a small spoon full of minced garlic and season to taste. Set a side.
3. Place chicken breast between two pieces of plastic wrap and pound with a meat tenderizer until thin. Remove top layer of plastic wrap and season both sides with salt, pepper, and season salt. Then, spoon some of the stuffing mixture on to one side of the chicken. Slowly roll up the chicken like a paper towel roll and wrap in plastic wrap twisting the ends like a candy wrapper. Repeat with each piece of chicken. Next, wrap each chicken roll in aluminum foil just like you did with the plastic wrap.
4. Place each wrapped chicken roll in the pot of boiling water. Let boil for 18 minutes then remove. Allow to cool for a few minutes before unwrapping. Slice each roll in to pieces and serve with rice or potatoes.
I don't have a picture of one of my Roulades, but this picture shows what it should look like. These are really simple but look very fancy.
Other stuffing ideas: Broccoli, bacon, and cheddar cheese. Asparagus and Parmesan cheese. Or any other combination your family likes.